Reading should be fun for kids and easy for parents
Is your child bored or not interested in reading  or writing?
Do you want to interest them but you don't know how?
Do you want to see their eyes sparkle while doing fun reading and writing activities?
Ask Santa to send them a letter they will want to read.
Every month, a different letter will share fun facts about Santa's activities, but also stories about what the reindeer are doing, the elves and Mrs Claus too. And they might include some photos or games too. 
These letters and activities should pique the interest of children between 4 and 8 years old, or at least, as long as they believe in the magic of Santa.
In May, a few more reindeer celebrated their birthdays with a nice cake prepared by Mrs Claus. Santa is already planning their garden to plant vegetables (and the child will be able to plant some carrots too). Finally, all the reindeer had their health checkup.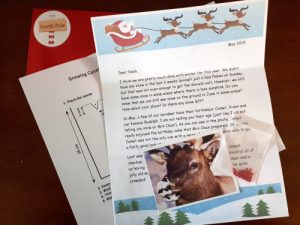 Place your order for your choice of package, whether it is for one month, three months or six months.
Fees include the letter, photo, material and postage.
For Canada and the United States
For International letters