Here are some of the past letters and activities from the North Pole. Each activity involves some reading or writing element for the child.
In April, Mrs Claus will have a lot of baking to do because five of the reindeer have a birthday! Santa and all the staff of the workshop attended a theater show about Frosty. You'll even get one of the tickets!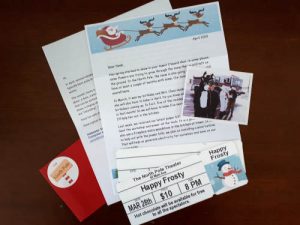 In March, it is Santa's birthday. Did you know? Also, Santa discovered that he lost his hat during his recent trip to Florida. Do you think your child might have seen it?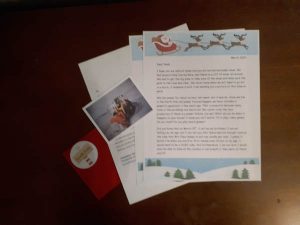 In February, Santa came back to the North Pole and it was time to do some serious clean up. Santa and the elves are very conscious of the environment, so they recycle as much as they can. The children are encouraged to find the Recycle logo on various objects around the house.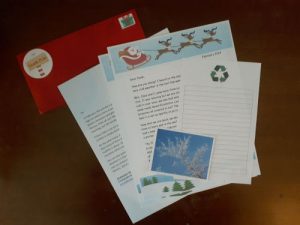 In January, Santa took a well deserved vacation in Florida (the exact location is secret), but he gave the children the whole itinerary of the many cities he visited during and they can plot the trip on a map.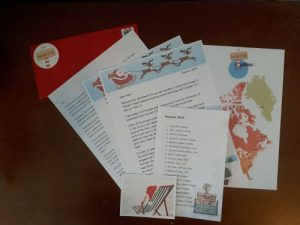 In December, Santa was closely watching the weather because of that important day of deliveries on Dec 24th. Mrs Claus also shared her favorite cookies recipes with the children.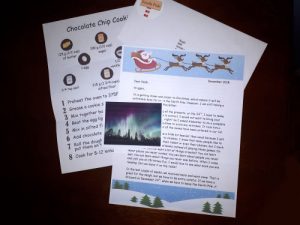 In November, it was starting to snow (good thing so it would be easier on the sleigh), one reindeer caught a cold (oh no!), and Santa added some touches of glitter paint on the sleigh. The children got a calendar to mark the days until Christmas and even some leftover glitters from the sleigh.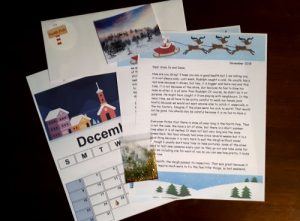 In October, a new elf called Eclair joined the workshop, the sleigh got inspected and Santa also got his yearly license plate for the sleigh. And the children can also created their own license place with the letters included and the special instructions.